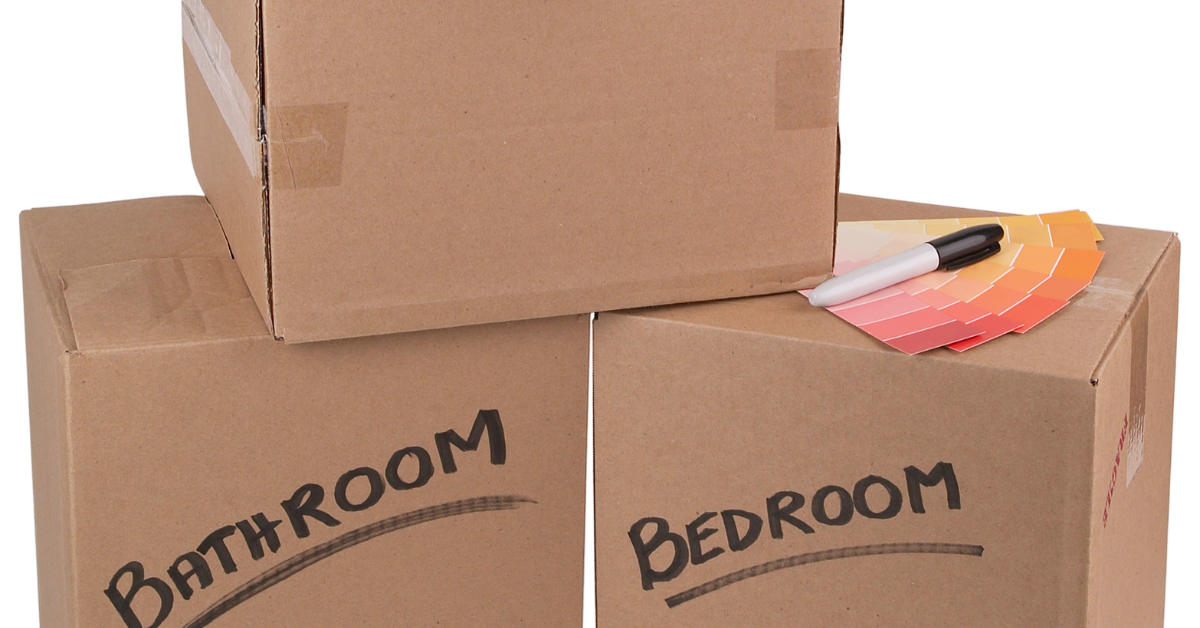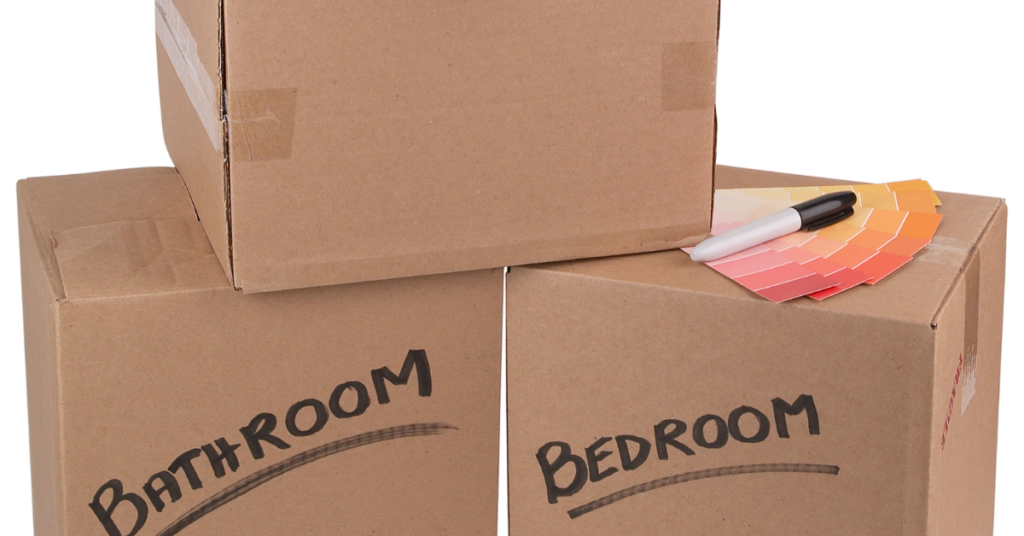 If you're moving, you will likely pack your items in boxes. Throwing random items in a box may lead to a non-efficient moving day. This means that whether it's a cardboard box or a storage container, you still need to learn how to properly pack your items for a quick and easy move. Remember – some boxes may be too heavy, and some items may break, but there are efficient and productive ways to pack boxes. 
Moving Supplies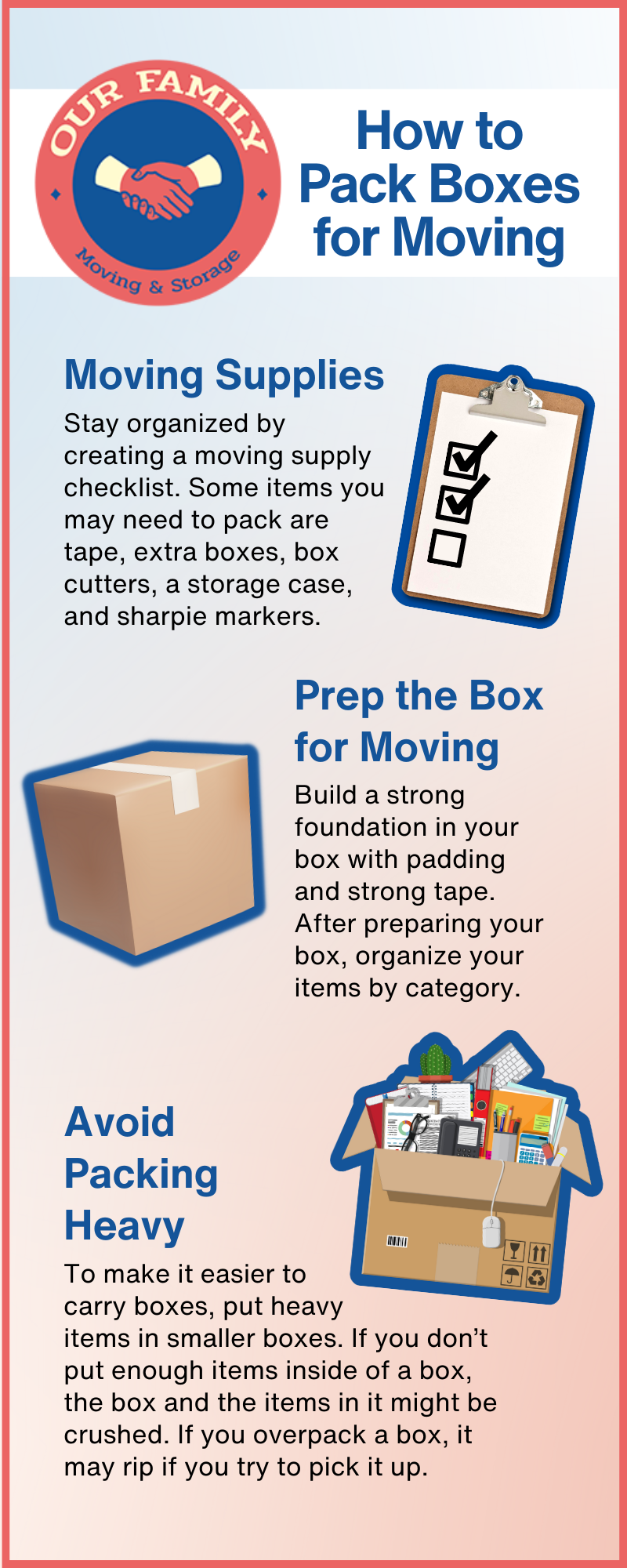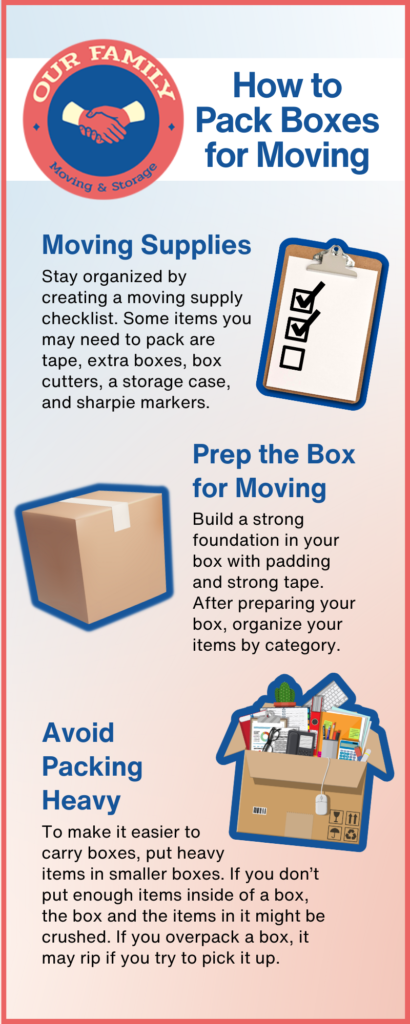 When doing any project, it is important to be organized. You tend to be more productive and get more things done when you are organized. That's why creating a moving supply checklist can help. One of the many benefits of a checklist is that you're less likely to forget any supplies. For packing boxes, a checklist will help create a stress-free moving experience.
Some items you may need to pack are tape, extra boxes, box cutters, a storage case, and sharpie markers. 
Make Sure You Prep the Box for Moving 
Make sure you build a strong foundation in your box with padding and strong tape. You can use packing peanuts, bubble wrap, towels, and newspapers to help keep fragile items from breaking. When you put packing material in the box, it makes the box stronger and keeps your items safe. 
After preparing your box, you must organize your items by category. For example, kitchen items should go in the same box. Make sure you put the heavier items on the bottom when you are packing. Also, to make it easier to carry the boxes, put heavy items in smaller boxes. Try not to make any box weigh more than 30 lbs, and definitely don't pack anything heavier than you can lift.
If you don't put enough items inside of a box, the box and the items in it might be crushed. If you overpack a box, it may rip if you try to pick it up. Avoid using cheap boxes. Instead, try to use heavy-duty boxes. Also, make sure you use enough tape to keep the box from opening. To ensure you know what is in the box, take a marker and label the outside. 
Avoid Packing Heavy 
One mistake people make when packing boxes is they make their boxes too heavy. People tend to think less is more when moving. Though that's a good strategy for many things, it is not for moving boxes. If you continue to pack items in boxes with stuff, your items may start to pile up, and you may run the risk of damaging items. The top items may be broken, and the boxes might end up breaking while you are moving.
If you have people helping you move, they may end up not being able to lift the boxes. Then it may take twice as long to move your items boxes. To help avoid any issues or problems, pack your items in small boxes instead of large moving boxes. That way, you can move boxes quickly and efficiently.
To prevent your boxes from being damaged, you should stack them like a brick wall. Make sure to put the heaviest boxes at the bottom and the lightest at the top. This will help with the weight distribution. 
Need Help Moving? 
At Our Family Moving and Storage, we provide different types of packing and moving services. If you need South Florida movers that are quick and efficient, contact us today. Ask us about the moving specials that we provide. We help many people in the community with our services.
Related articles